Are you missing a course in your registration? Did you already take a course and it's missing from your dashboard? Do you need to change courses for an event/conference that you've already registered for?
Below are instructions on how to edit your registration to update your agenda so you can select all the courses that you will be attending or did attend. Once you update your registration the courses will be displayed on your dashboard under scheduled courses (If the course happened over 3 months ago they will not be listed under your scheduled courses on your dashboard, but you can find them by clicking on Schedule and then View Courses from the Navigation Menu).
After the course is over you will be able to verify to receive credit.
Log into your CE Zoom account
Click on My Registrations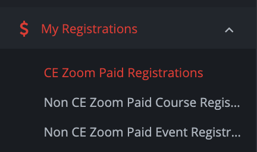 Select one of the 3 types of Registrations:

CE Zoom Paid Registrations if you paid registration fees through CE Zoom
Non-CE Zoom Paid Course Registration- for single course registrations when you did not pay through CE Zoom
Non-CE Zoom Paid Event Registration- for multi-course events/conferences when you did not pay through CE Zoom.

Click the red Edit button under the column titled Registrations for the registration of choice

Step 2 Agenda, select the new courses you will be attending
Events: unselect all events you will not be attending and select any events you wish to attend
Continue through the registration
Agree to the terms
Submit payment (if required)
Click Register/Complete Registration